BIOMIC GEOMETRY OF PLACE
"biome - a major ecological community (biotic community) of living plants and animals, occupying an extensive area, e.g. DESERT, GRASSLAND, RAINFOREST, TUNDRA. The plants of land biomes comprise FORMATIONS. ECOSYSTEMS." Dictionary of Geography, A.N.Clark, 1998
Biomic Geometries of Place evolved from an expanded study of the New England's Gaia Matrix. It was found that the biomes of Maritime Canada, southeastern United States, the Great Lakes, the Four Corner region of SW United States, the Arctic Tundra of Canada, and the oil producing zone of south central United States all demonstrate circular patterns that connect significantly with the central geometry of North America's tectonic plate.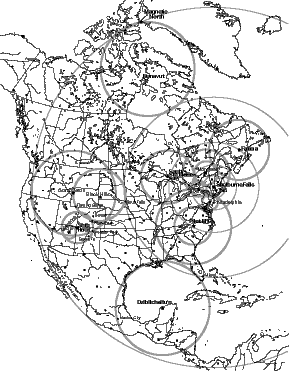 These Biomic Geometries of Place tend to share not only ecological patterns but social patterns as well. The Oil Biome for instance, centered on Oklahoma City is ringed by sites significant to the military industrial complex and America's Christian Right. This biome could be seen as being the present center of power in the United States - the past three Presidents have come from this biome. Industrial, political, military, religious, and monetary might have coalesced here to propagate a social agenda experienced in the 2004 USA.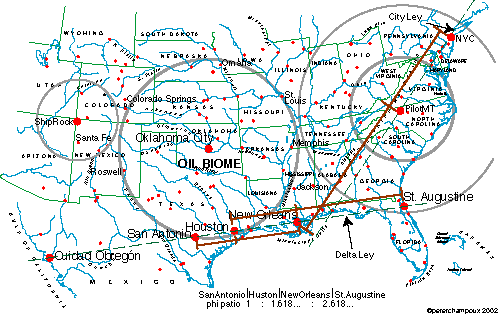 Biomic Geometries of Place can be more fully explored in the book Gaia Matrix. Additionally a collaborative study (PDF) on the health impact of biomes and ley lines was done with Dr.Wayne London and can be downloaded here.
Biomic Geometry of Place studies assist national planners to better understand and visualize the large social structures that make up a continent. Interaction between biomes, such as that experienced in the American Civil War, helps leaders to harmonize the sometime divergent cultural and environmental elements of biomes.