Global Geometries of Place
Eastern Hemisphere - Flower of Life Geometry
The accompaning geometry illustrates the interrelationship of the diverse landscapes of the Eastern Hemisphere.
The expanding circles encompass the whole hemisphere.
It identifies Banglore India as the center point of this gaian matrix.
The entire Eastern Hemisphere generates this Flower of Life geometry.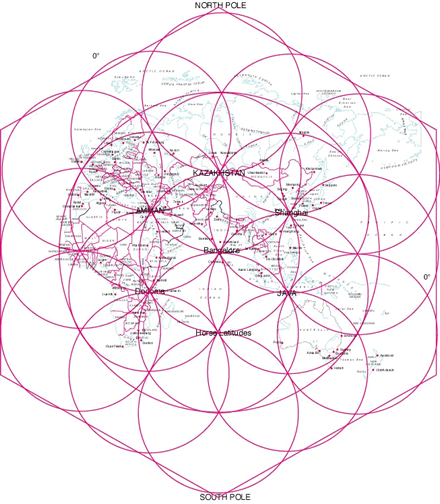 Gaiagraphic
by Peter Champoux
Additional related Gaiagraphic studies by Peter Champoux are available.
The following are just three
of more than fifty in the Gaiagraphic series completed to date.
This study is among the most detailed of the series.
Evolving over the past 10 years, this study identifies multiple biome centers and some of the many leys lines native to this continent.
North America's tectonic plate is circular as are all its biomic parts.
This gaiagraphic study was generated as the result of a request by Edwardo Luna, Shaman of South America to look at the geometry of Mt. Chimbrozo. Chimbrozo is the tallest mountain in the world because of its location on the equatorial bulge in Ecuador making it the farthest point from the center of the earth. South America's shape is a near perfect 3-4-5 triangular.
An evolving study, this file illustrates the approximate course of major leys that link the aboriginal peoples, western nations, and middle eastern folks with the rest of the planet.
Detailed paper printouts are available. Please contact for conference participation and presentations to groups (openings now available).