REGIONAL GEOMETRY of PLACE
Three examples of Peter Champoux's Regional Geometry of Place studies follow.
The first example was drawn for the social architecture initiative known as "The Ceres Project" of Vermont. The study is based on the placement of significant mountains in NY/ VT/ NH. Ceres is the goddess atop Vermont's Capital Dome in Montpelier, Vermont. The philosophic keystones of this social framework are depicted as interconnected circles centered on and connected with the mountainous landscape of northern New England. Phi rhomboid, Vesica Piscis, and 1:2 ratio are all indicated in this study.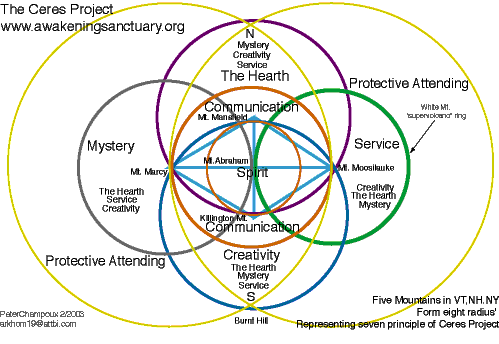 Gaiagraphic by Peter Champoux
This second example of a Regional Geometry of Place study focuses on the Lake Winnipesaukee region of New Hampshire.
An overview of this study findings include: multiple geometric patterns interconnecting the region into a temple like format, a prominent 1:2 ratio, the Circled Square with pyramid, the cardinal directions delineated clearly by natural feature (mountain tops), and a central Vesica Piscis -- are all drawn from the placement of volcanic bedrock, mountains, lakes, and existing place names of the region.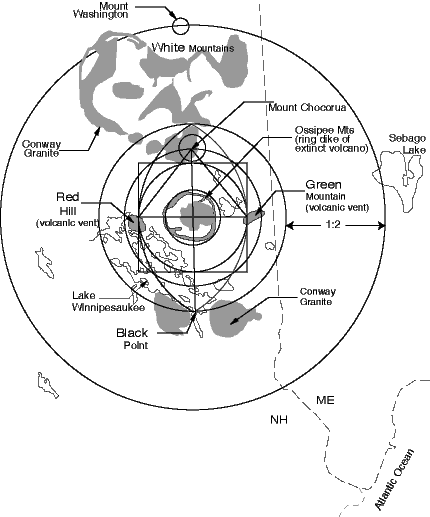 Gaiagraphic by Peter Champoux
Another Gaiagraphic study of the Four Corner region is shown below. This Gaiagraphic is a synthesis of cultural, political, geographic, and magnetic features. The swastika, a traditional symbol of life, is drawn from state boundaries. This swastika's counter clockwise spin direction pulls it life energy into its center. This is thought to be a negative manifestation of this sacred symbol; and associated with Hitler. Having this geometry centered over the southwest potentially suppress' the influence of its Native Americans on the land. Positioned as an initializing spin field, within the greater continental matrix, the spiritual vitality of this region affects the entire continent. The circles centered on the Grand Tetons are geomagnetic and features many sacred mountains located on its circumference. A complete article on the Four Corners region is available on this web site. A chapter of Gaia Matrix, Arkhom and the Geometries of Destiny in the North American Landscape is devoted to the Western Wheels illustrated

Gaiagraphic studies assist planners by accessing the scope of regional influence and relationship. Identifying, evaluating, and understanding significant natural and man-made features clarify further relationship to the location. Extrapolating this information brings greater integration with the biological expression. Establishing appropriate focus centers at indicated points brings the region into a connected vital biologic expression. Environmental, economic, and political decisions made for one point impacts the vitality of the region in total. Land use decisions, facilitating tourism, cultural and ethnic diversity, industrial and commercial utility, residential development are all integrated more successfully within a community using these geometry of place models.