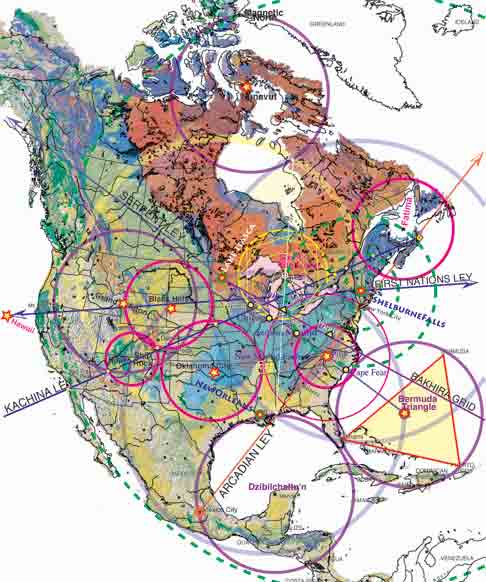 New Years Gaiagraphy Report
1.2009
Peter Champoux
This latest geologic evolution of North America's 'bio–rings and strings' (ie. the crop circles appearing in my head monthly) highlights the importance of the Great Lakes Biome. Clicked into place by President Obama this biome presents as a life affirming phi amidst the formative vesica piscis ().
Three largest rings, centered on Shelburne Falls, Lake Itasca, and New Or'lands share common vertices generating flower-o-life/ triangle/ merkaba. Located central to these ring patterns is the New Madrid Fault zone. New Madrid, surrounded by The Trail(s) of Tears, is an earth-heart, geologically stretched east, west, north and south. The past 20 years presidents have ruled with an eye () for the oil fields of OK and the money fields of NYC. With this gaia-political turn northwards, to the great pentagonal waters, a new frequency patterns is keyed into our gaiagraphy– pattern of life.
The consciousness streams coursing through these waters come from multiple efforts by divergent groups coalescing into a serpentine wave isolating between the Serpent Ley and Bakhira Grid. The spear point of these alignments grounds in the ancient iron laced granite of Lake Itasca; the headwaters of Miss. River. A subtle dynamic is evident, as well, in the choice of sites to co-generate a landscape medicine wheel centered on Wildcat Mountain in Ontario, Wis. This wheels proximity to the Great Lakes ring and ley convergence suggests this as a likely place to infuse our collective efforts of earth healing, across the continent, into The Great Lakes spirit and biology.
A coalescence of frequency emerges in this map suggesting a course of action that would potentially exponentially expand intention and hopefully generate a stable field of spirit to ride awake into our earth's changes. From where ever you live include these portals of spirit in visualizing positive futures.
Serpent Ley, is a wave form vibrating between the geomagnetic fields of the Canadian Shield and the Bermuda Triangle ring. Named after the Great Serpent Mound in Ohio this lightening bolt through the land follows: volcanic and ring pattern sequencing, military bases and battlefields, drift less zone and proto-planet iron. The serpent mound it self being the primary site of the ley; its location marks where the stuff of stars (meteor) meets the stuff of earth (magma). This heaven and earth metaphor is seen written in the memories running throughout its ley.
Operating in tandem with the Serpent Ley is the cultural ley being co-generated through the efforts of: Bakhira Grid work, Trinity Point Project, New Sakkara Pyramid, Wildcat Medicine Wheel, and the Lake Itasca tribes, ..., .... The common cause amongst these groups is for healing. Healing all our relations, memories, connection, and land. Following in a close second they hold an intention to trigger an elevated consciousness that lives in a greater proportion of the '90%' of life; that Great Mystery spinning our web life.
First Nations Ley carries memories of Wounded Knee, and Boston along its 'great circle'. 1st Nations Ley sites include: Hawaii, Au, and West Africa. This ley carries the indigenous mind in its great circle. The memories held in massacre, slaver, and genocidal sites along this ley diminishes the positive expression of this ley.
Kachina Ley, named for Hopi Creator Beings who bring rain from the San Francisco Peaks to the Hopi Mesa. This alignment tones Om-ma-ha, Madison (a confluence city), Ottawa, Montreal, and Cape Breton; marking this ley as the Kachina highway from the Baja peninsula to Cape Breton peninsula.
These pathways of angels are tools of grace to help in our transformation, as the saints come marching in. Use them with discernment.
Wishing you all a good years swim, let go of the bank and keep your head above water!