GAIA MATRIX
center of north america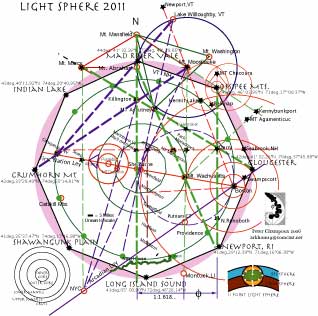 Field Geometry by Peter Champoux
For background read:
by Peter Champoux and Friends
ISBN 0-9672328-0-5
8.5in. x 9.75in. 248 pages 100+B/W graphic images -high resolution printing- Perfect Bound with lay flat laminated color cover - 70 lb. fine bright white paper

.
American Society of Dowsers Bookstore and Catalogue
- St. Johnsbury, VT (802-684-2565)
International (& Canadian) Orders
US $35+SH book
Call distribution center at 001-518-436-9689 x118
Also ~~~
Gaia Matrix is part of inter- library loan systems:
NY, CT, RI, ME, VT, NH, MA.
This Gaia Matrix geometry resulted from a study that began with a tri-angulation of mountains in northern New England (Flash).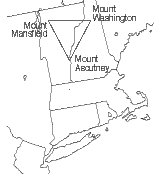 Field Geometry by Peter Champoux
This geometry was reversed and doubled to triangulate the three lakes.
Its center lines bisects Shelburne Falls, Massachusetts, this marks the center of the North American tectonic plate.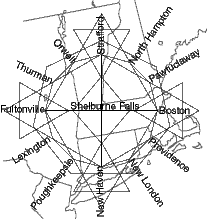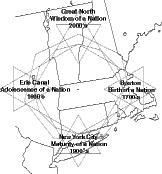 Rivers, mountain ranges, and coast lines all point to Shelburne's granite dome, the geologic or gaiagraphic center of the continental land mass.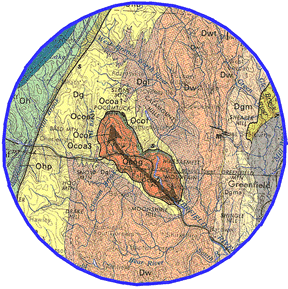 The expansion of this central geometry encompasses the North American Continent, marking magnetic north and the Mid-Atlantic Rift. The next ring expansion marks Hawaii and the western most tip of Alaska.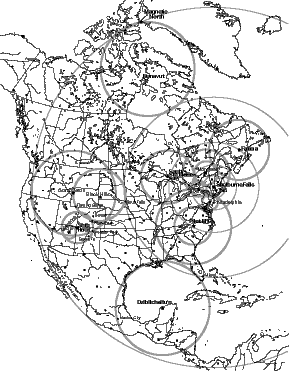 Field Geometry by Peter Champoux
In total a symbol of balance
.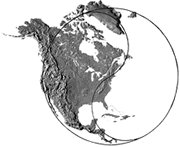 continue to